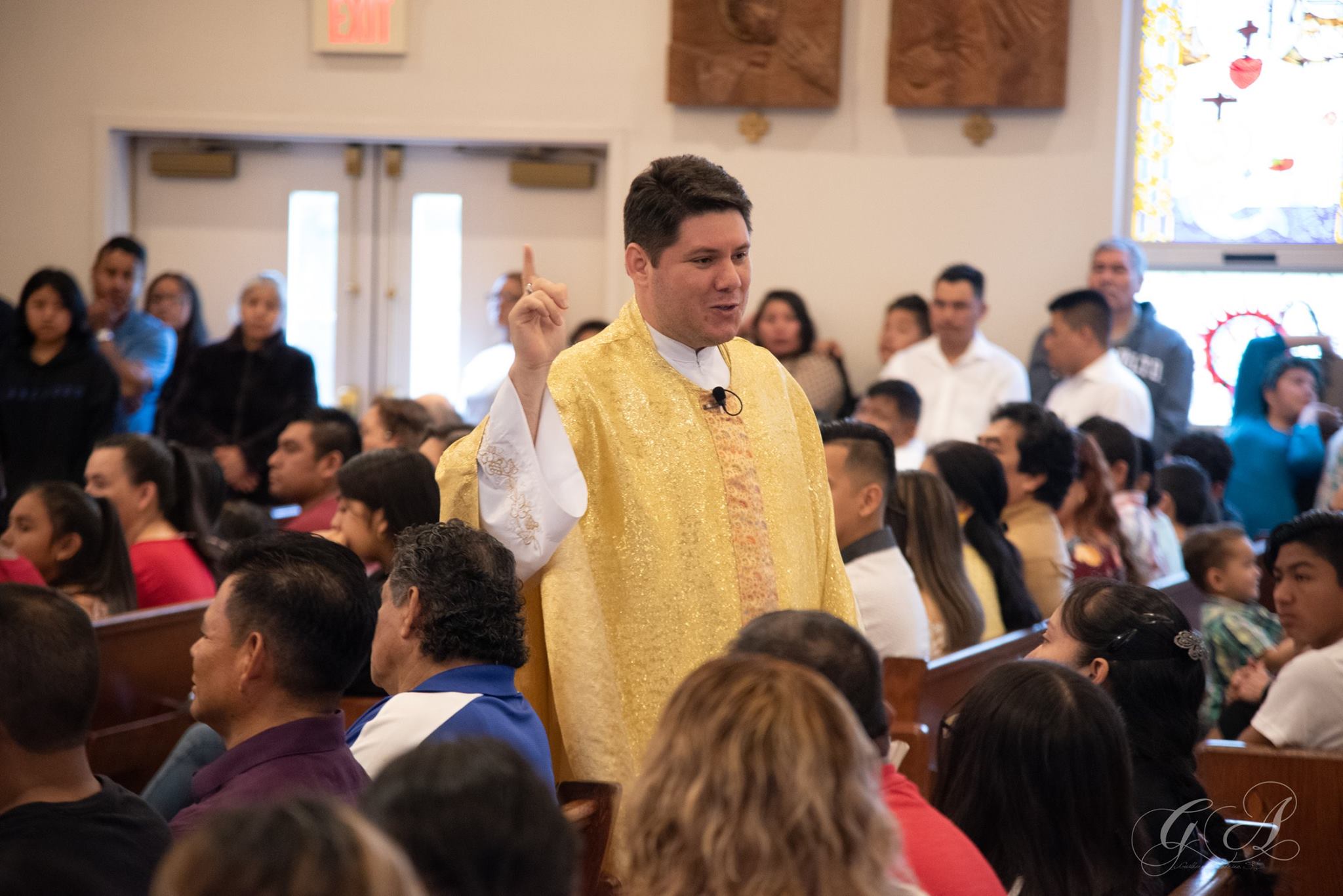 Bishop David M. O'Connell, C.M announced the appointment of Father Guilherme as Pastor of the Parish of Our Lady of Guadalupe on May 13, 2021, effective July 1, 2021.
Born in Brazil, Fr. Guilherme Andrino joined the Divine Word Missionaries (S.V.D.) in February of 1990 in Paraná, a southern state of Brazil. He graduated with a degree in Philosophy in 1999 from the Pontifical Catholic University of Paraná and in Theology in 2006 from ITESP- Institute Sao Paulo of Superior Studies.
In Sao Paulo, Father Andrino, worked with the Association Rede Rua (Street Network Association) a Nongovernmental organization which serves the homeless of Sao Paulo City…During the next four years, working with the Association, Father Andrino spent time getting to know more about the homeless - those living in street situations - and finding ways to help them get to a better place.
In 2003 and 2004, Father Andrino, came to the United States for an OTP (Oversees Training Program). He stayed at Saint Anselm's Parish, an African American church, on the South Side of Chicago. Father Andrino was ordained on April 14, 2007, and after ordination Father Andrino worked as vocation director for one year in Brazil before coming back to the USA.
From May of 2008 to October of 2014, he worked at the Church of the Blessed Sacrament - Our Lady of the Divine Shepherd in Trenton, New Jersey (He was appointed pastor of CBS-OLDS in 2011). In 2014, Fr. Andrino was elected the New Jersey District Superior for the S.V.D. in the New Jersey District.
From January to April 2015, he studied Spanish in Mexico, and in May of 2015, Father became a parochial vicar at Saint Anthony Claret Parish in Lakewood, New Jersey.
In 2017 he was re-elected Superior of the district (for another 3-year term).
In 2019 Fr. Guilherme received the Notable Brazilian award in New York City (The event that rewards Brazilians who have accomplished great things in the United States of America).
In 2020 Fr. Andrino was elected member of the Provincial Council for the Chicago Province (The Chicago Province has the greatest number of Divine Word Missionaries in the Western Hemisphere. Its territory extends from Nebraska to Massachusetts and from Canada to the Caribbean).
Also In 2020 he was re-elected Superior of the district (for another 3-year term).
Fr. Andrino also helps in a regular basis the Brazilian communities in the Diocese (one in Long Branch and another in Riverside, New Jersey).
Some of the other ministries and interests of Fr. Guilherme are:
Member of the Communication and Media Relationsfor the Chicago Province
Member and classifier for the Vivat International(a Non-Governmental Organization working in 120 countries for promotion of human rights through advocacy in international and local levels. VIVAT International has the Special Consultative Status with the Economic and Social Council of the United Nations.)
Editor/photographer for the parish pictures and videos (Fr. Guilherme is often seen with his camera registering the events of our parish)
Poem Writer (Fr. Andrino loves writing poems/prayers. In 2018 he wrote a book in Portuguese/Spanish called "God's Garden-Praying in poems with Fr. Guilherme")